Awarded: Highest quality in distance learning
The academic success of our students is a personal concern for us at the eLearning Academy for Communication. We set new standards in the digital education market in terms of content, organization and implementation of teaching.  Professionalism and quality in distance learning are our top priorities.
Teaching content and materials (such as: scripts, videos, literature,…), the lecturers and the implementation of the teaching are constantly evaluated internally. In addition to internal quality assurance, measures are regularly implemented and developed together with external partners and agencies.
UAS Burgenland & AIM
The programs we offer are integrated into the quality management system of the UAS Burgenland and the Austrian Institute of Management. The results of the evaluations are continuously monitored and implemented using appropriate measures. The aim is to maintain the high quality standard and to work continuously on improvements.
Awarded quality – ISO 9001:2015
ISO 9001 is the best known quality standard in the world. To obtain this certificate, a company must meet a variety of requirements (context of the organization, leadership, planning, support, operation, evaluation of performance and improvement).
In 2019, the eLearning Academy for Communication was certified for the first time as an ISO 9001:2015 company by AQ Austria. For quality assurance, the requirements are reviewed in annual audits. Every three years, the certificate must be renewed in a comprehensive renewal audit.
In July 2022, a new recertification of the eLearning Academy took place.
Ö-Cert accredited
Ö-Cert is a European flagship project, which recognizes and awards the quality of adult education institutions on the basis of a legal basis (15a agreement on Ö-Cert, Federal Law Gazette II No. 269/2012). In 2021, the eLearning Academy for Communication was recognized for the quality of its distance learning programs and the transparency of its work.
PRVA tested
In order to advance the professionalization of the public relations profession, the Public Relations Verband Austria (PRVA) awards the "PRVA-tested" seal of approval to high-quality educational programs. This seal verifies:
the quality of the infrastructure,
the quality of the training programs and course content, and
the quality of the lecturers.
In 2020, the eLearning Academy for Communication will be awarded the rating.
"The concentration of roles with regard to marketing and communication in companies, especially in the SME sector, justifies the need for a special training concept. With the possibility of completing this in the form of a 100% distance learning course, the eLearning Academy stands out from other providers. The good mix of theory and practice, which is also reflected in the teaching staff, should also be emphasized as positive. This enables an optimal coordination between studies and professional everyday life with relevance for practical suitability," the reviewer concludes in the report.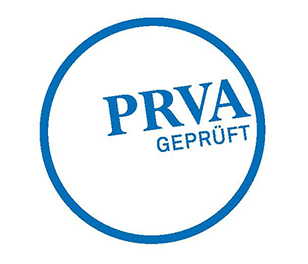 What our students and alumni say